Liz Hingley's work
Liz Hingley's work
Hingley's work is about social engagement. She photographed international representatives of the Emmaus community for the With Others project. In Homeless at Home Liz Hingley photographed homeless people in the setting of an intricately designed show home.
Her major project Under Gods was developed during her residency at Fabrica and realised in a touring exhibition and publication, Under Gods: Stories from Soho Road (Dewi Lewis publishing, March 2011). The series focuses on the practice of faith among the inhabitants of the two-mile stretch of Soho Road in Birmingham, the city she grew up in.
The exhibition takes the form of an installation customised for each venue. First shown at Wolverhampton Art Gallery in 2010, and subsequently at St Mungo's Museum of Religious Life, Glasgow, Host Gallery, London, Le Petit Poule Noir Gallery, Paris and Studio la Citta, Verona. The exhibition will tour in China over the next two years.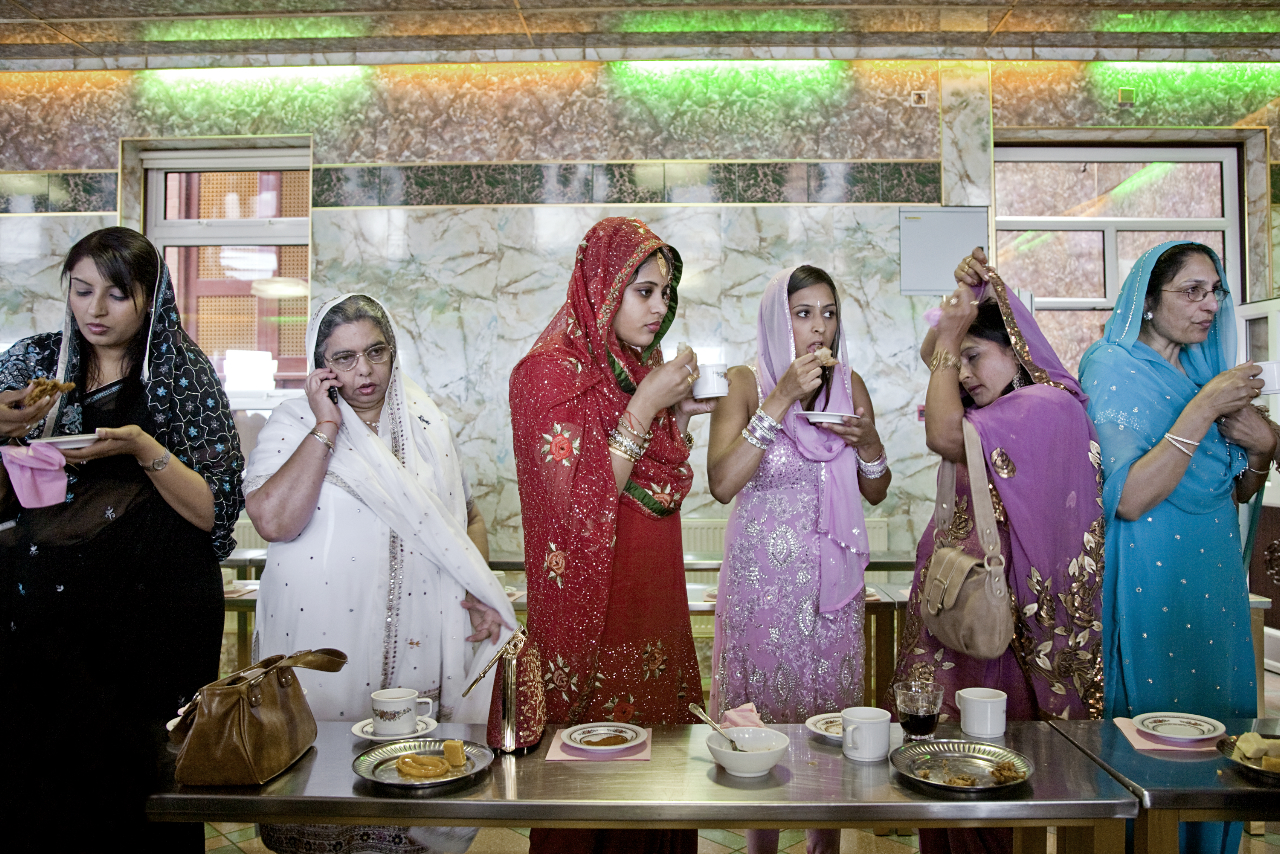 Sikh Wedding: from 'Under Gods: Stories from Soho Road', 2011
The Jones Family is a major project, begun in autumn 2010, following a commission from Save the Children through the Ian Parry award. Hingley was one of five photographers documenting child poverty in Britain.
The series documents the lives of the Jones family (two parents and seven children) who are living in their first house on a council estate in Wolverhampton, after residing in caravans for three generations. When the commission finished, Hingley continued working with the family until mid 2012.
Material from the project includes prints by Hingley, photographs taken by family members with cameras provided by Hingley, older family photographs, drawings, poems, writings and other material by family members and scans of walls and furnishings made with a portable scanner. Whilst the final form of presentation of this material has not yet been determined Hingley's images of the Jones Family will be exhibited at the Sete Festival in 2014.
Hingley's newest book Shanghai was launched at Paris Photo in November 2013 - see attached document. Part of the 'Portraits de Villes' collection, Shanghai was published in partnership with the Prix Virginia won by Hingley in 2012.